The two things I love in life is art and poetry. I especially love it when they go together.
One of my favorite writers is Jal-Adin Rumi. His poems are beautiful and meld spirituality with art very nicely. So, I decided I would take a clip from one of my favorite poems of his, and create a journal page for it. Follow along, so you can make one too!
First, here's the poem:
Inside this new love, die.
Your way begins on the other side,.
Become the sky.
Take an axe to the prison wall. Escape.
Walk out like someone suddenly born into color.
Do it now.
You're covered with thick cloud.
Slide out the side. Die,
and be quiet. Quietness is the surest sign
that you've died.
Your old life was a frantic running from silence.
The speechless full moon
comes out now.
-Jal Adin Rumi
Like I said, I love how spiritual his poetry is, while not being associated with one religion or another.
Now for the journal page.
For this, you'll need:
DecoArt Media Misters and Shimmer Misters
Heat Gun
Rubber Stamp
Pigment ink stamp pad (in your favorite color)
Black marker
Washi Tape
Stencils
Magazine Cut out
Pretty papers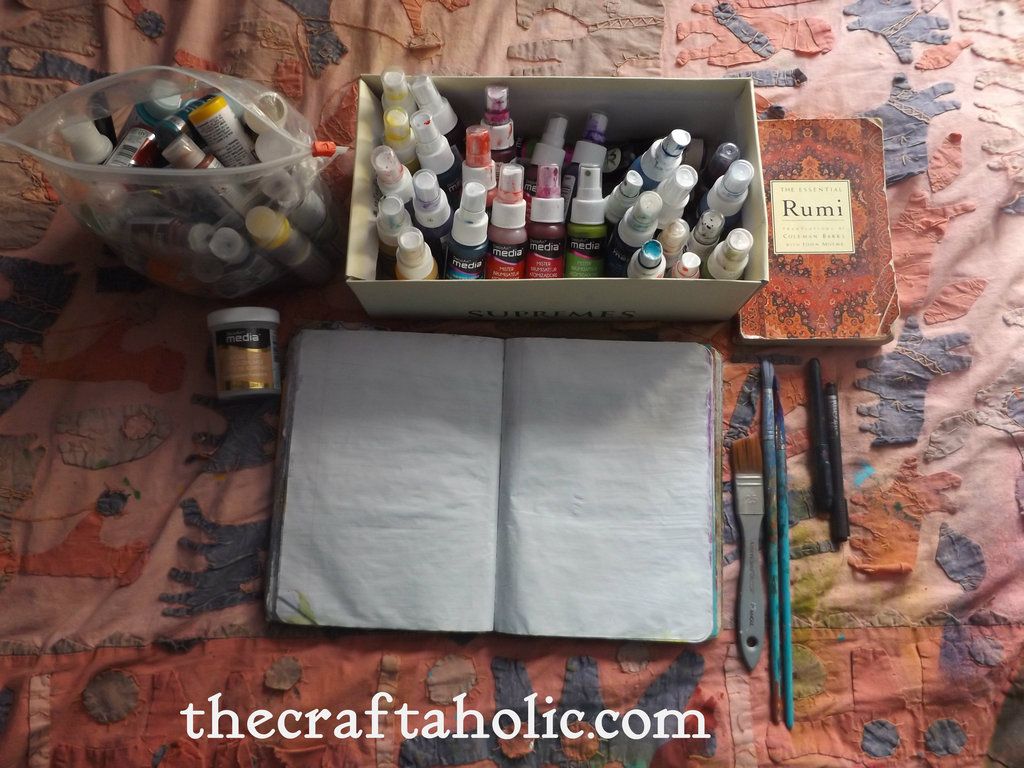 I like to lay out all the supplies I think I might need.
So, the first step, is getting out a rubber stamp. For this, I had to dig through my stash of rubber stamps that were forlorn and neglected, having been packed away when I moved here from Brooklyn. I hadn't even used them yet, can you believe that?
Here's what it looks like when stamped on the page. I should also mention that I applied gesso to this paper before I got started.
Now you're going to need your misters, a spray bottle with water, and a heat gun.
What you're going to do, is your going to get your misters and spray your page with it. It doesn't have to be neat. Just work intuitively. Then, spray some water over it, liberally.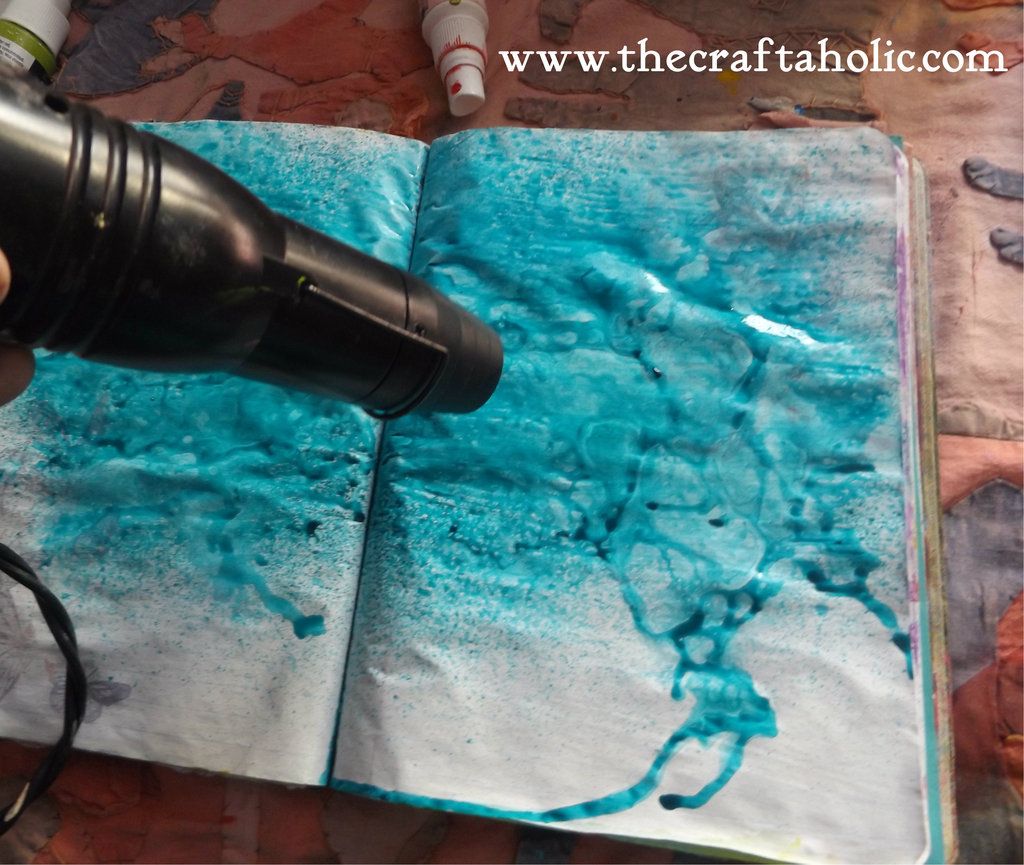 Now quickly with your heat gun, go over what you just sprayed down. The air from the heat gun in addition to the water you spray down, will make the colors spread around the page rather nicely. I love the messy drips here and there. It is almost as if the ink creates it's own art.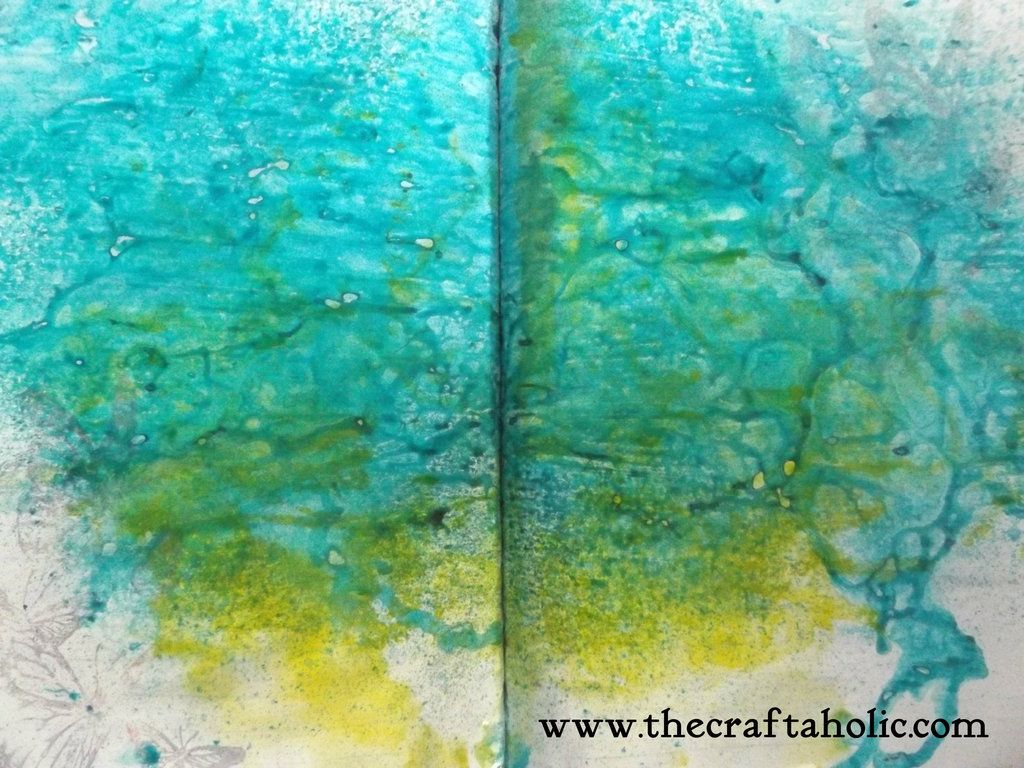 Once that's dry, have fun with a couple more colors. Play around with it, using light mists of color, to sprinkle the page with a bit more vibrancy.
Now, if you want, let's get a stencil, and a contrasting color ink.
After I did that, I went over the page with some white ink, then used a scraping tool (you can use an old credit card or used gift card), to have the effect shown here.
The pages were getting a bit weak at the binding, so I used washi tape, to keep them together.
The rest is easy. I used a picture of a girl from a magazine, and pasted on the left, then on the right, I used a line from the poem aforementioned. I used ProMarx Ultra Fine in black, in the tip size 0.5.
Oh, and for her mouth, I just wrote that in some pretty gold paper I had. The moon is just a piece of white thick paper I had that I cut into a circle. And, voila! You've got yourself a Rumi inspired journal page.
Did you find this inspiring? I hope you did! If you make anything from my tutorials, I do hope you post pictures on my facebook page!
If you want further inspiration, sign up for my 7 day art challenge! You get a mini e-book with daily tips for 7 days worth of art and inspiration!