The one thing I love about art is how much you can integrate your life into it. Art can become so much of a personal diary, a confessional of sorts. I love that. One thing I practice in my life is the Law of Attraction. The law of attraction simply is the idea that you get back what you put out into the world, and that what you spiritual paths teach, s is one thing that many spiritual paths teach, namely Buddhism. The Buddha said that what you think, you become. So, it's a good idea to surround yourself with positive vibrations and thoughts. A good way to do this is with affirmations.
I personally got tired of the affirmations written on post it notes, so I decided to make a set of affirmation cards, and teach you how to make your own!
For this project, I used:
140 lb watercolor paper size 8.5×11″ (cut into four equal pieces, to amount to 12 cards)
DecoArt Mixed Media Misters & Shimmer Sprays
DecoArt Mixed Media Stencils & Andy Skinner Stencils (Also by DecoArt)
Palette knife
Spray bottle filled with water
Pigment ink stamp pads
Rubber Stamps (choose your favorite ones as I did)
So, make sure that you have your paper cut up. It's easy to do this, just take one piece and divide it into four equal parts, then cut it. Do this until you have twelve pieces of paper.
At this point, whip out your stencils. DecoArt has a wonderful array of stencils that will ticke anyone's fancy. They have a wonderful new line of Andy Skinner stencils that I used in this project, and they really are so cool.
This is one of the Andy Skinner stencils, on top of the paper.
Now, get your DecoArt Misters and Shimmer Sprays. It's fun to use more than one color on the paper, to blend and make new colors.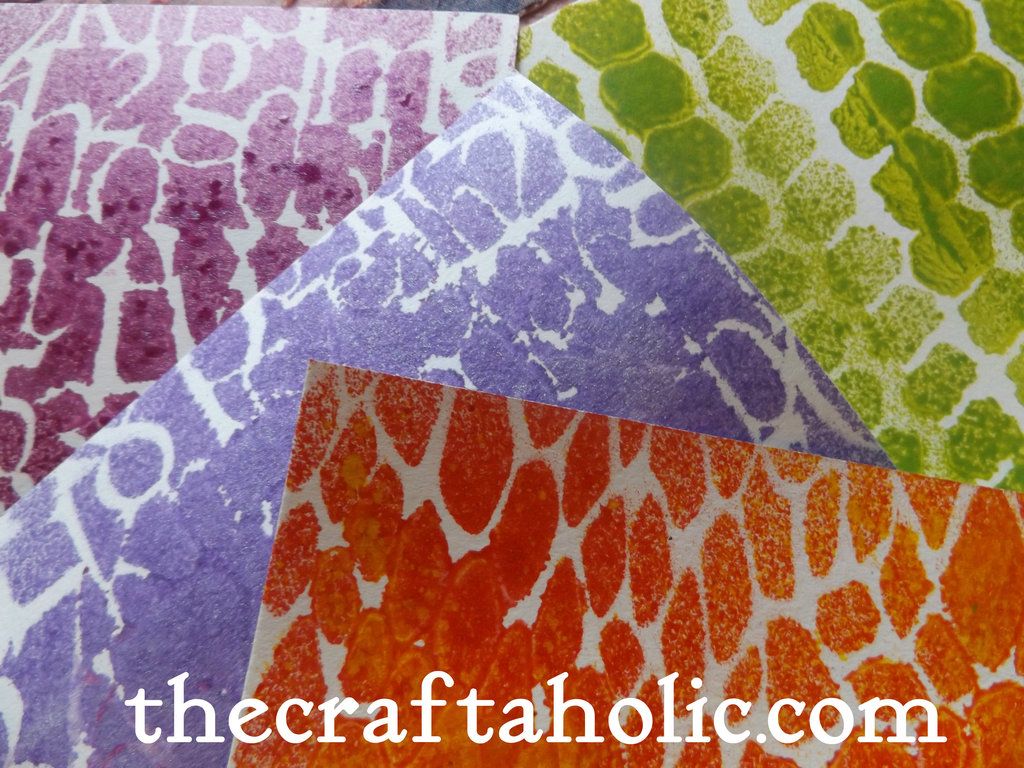 Here's a few of them all done. Wait for the ink to dry, then you go on to the next step, which is a layer of acrylic paint.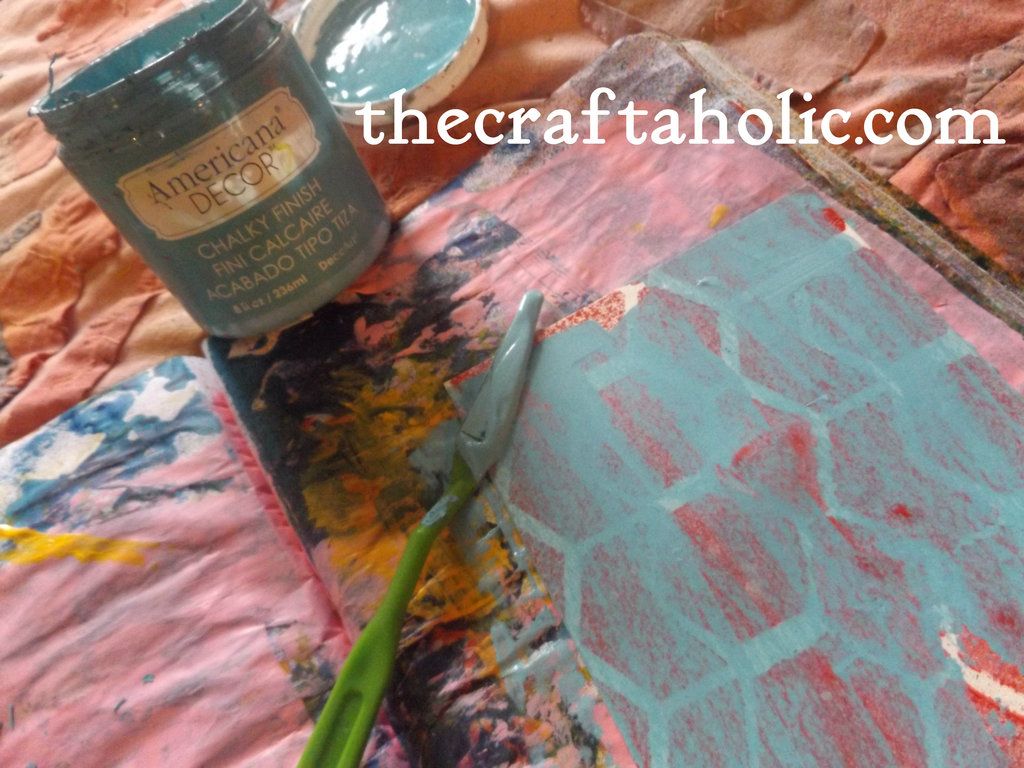 I love DecoArt's chalky finish paint so much, the effect is wonderful with mixed media! Use whatever paint colors you wish.
Here's what they look like. You don't have to apply the paint with a brush, you can scrape it on with the pallet knife or an old credit card.
Next, add some doodles and paint bots and such. You can use a toilet paper roll as a stamper and use it with paint. Here's the colors I used: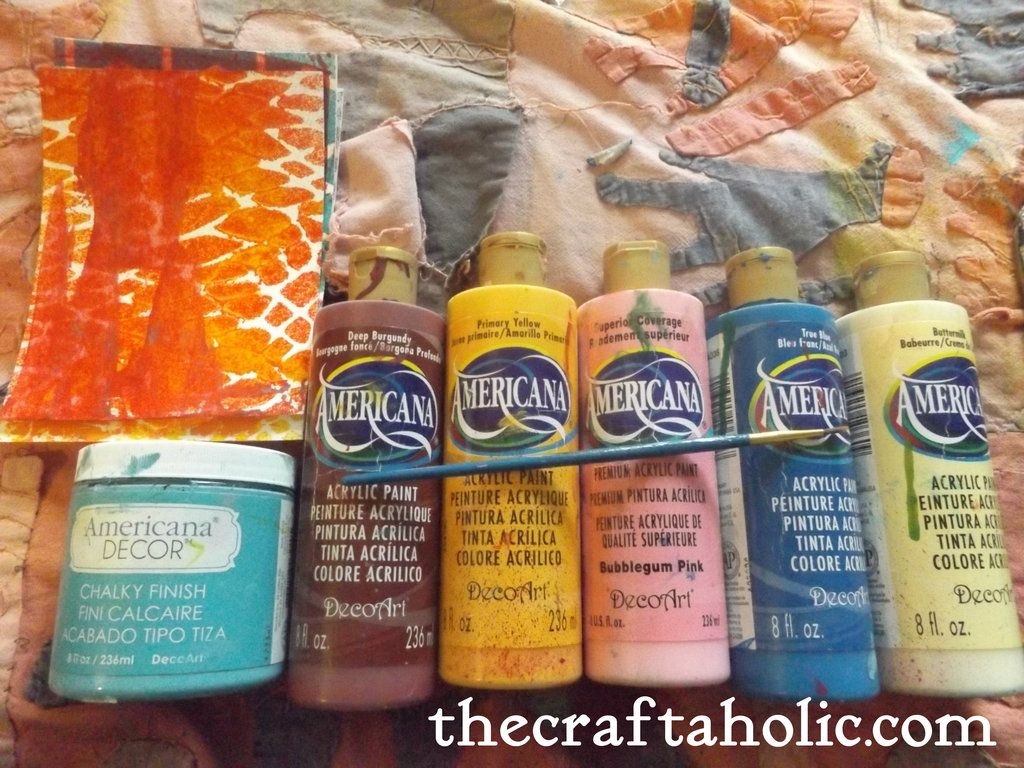 And here's what they look like with some paint blots and doodles and things.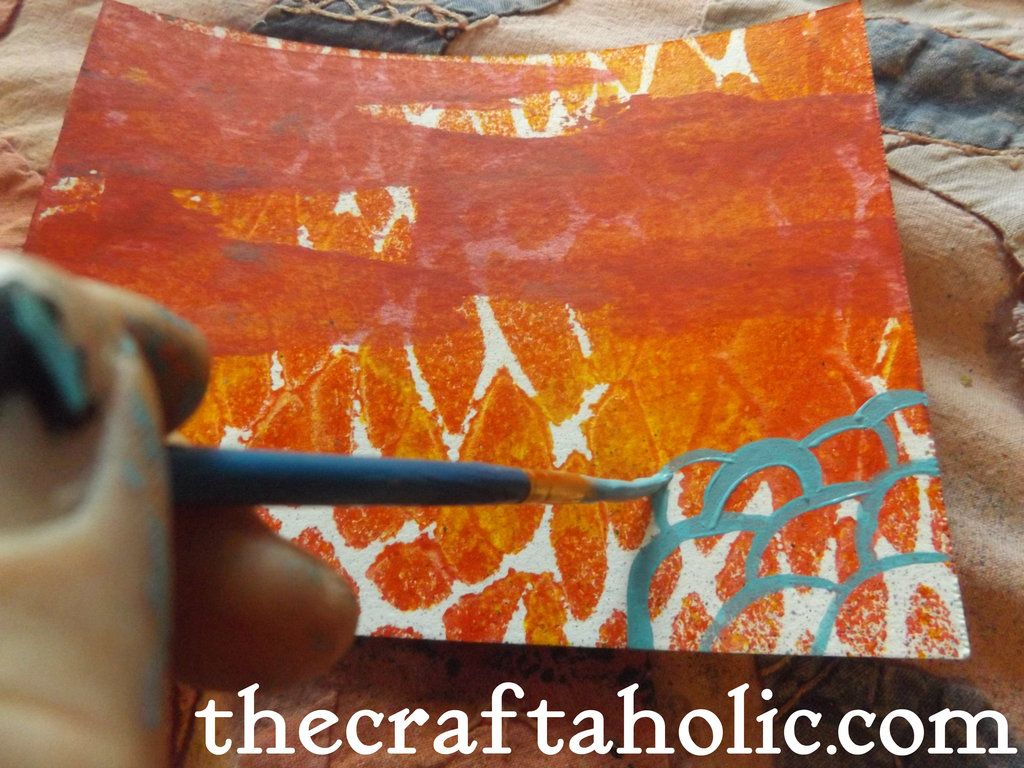 You can use a paint pen if you're more comfortable with that. I used a brush, though.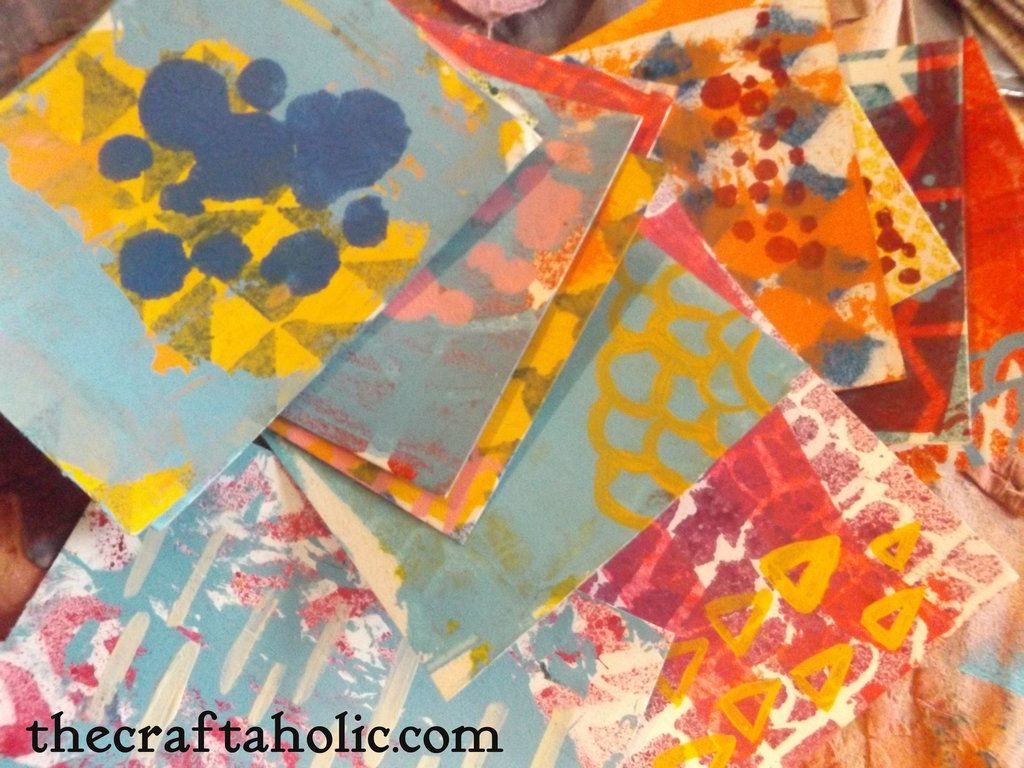 Once you're done with that step, it's time to add another layer. At this point, you'll need your spritz and shimmer sprays as well as a spray bottle filled with water, and if you have one, a heat gun would be great. If not, you could probably use a blow dryer.
What I did here, is spritz on a bit of color with the DecoArt misters, sprayed a mist or two of water, and then went over it with my heat gun, to spread the color around a bit. Easy does it with the water. Just play around and have fun with the effects that the ink and the water make together.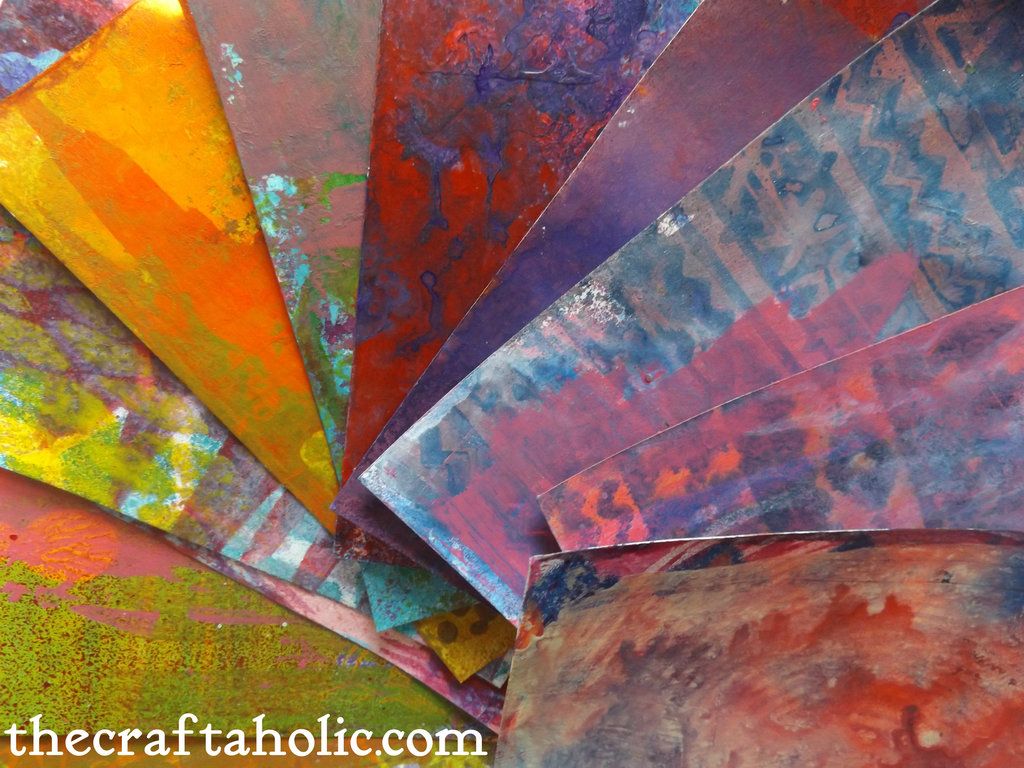 See the effects? Some are glazed over with colors, some are not.
Once that dries, you're ready for the final two steps: embellishment and sentiment.
Stamp it up, baby. I used pigment ink based ink pads and just a whole bunch of rubber stamps from my bin of stamps. Use any ink brand you want, but my two favorites are Stampin up and Clearsnap. For this project, I used Clearsnap.
That peacock feather is one of my favorites. The funny thing is, since I've been in Jersey, I had my rubber stamps still packed away, and I had sort of forgotten about them. But then, my some strange happenstance, I found them a few days ago, and was simply ecstatic that I had.
So once you get a nice embellishment stamp, go ahead and stamp it up. You can even use embossing powder if you want, but I couldn't find mine.
Now it's time to get a set of alphabet stamps and a black and a white pigment ink pad, and get your affirmations on your cards. Now, I could just give you a list, and I'll give you a few that I love, but I also think you should think of affirmations that YOU know YOU NEED to hear and say and believe. Look within, dig deep and think about what it is that you need to hear yourself say.
I've been reading a book by Dr. Wayne Dyer called, The Power of Intention" and I love it. It really is incredible what you can do, if you just set your intention and truly believe. Anyway, I love this one set of affirmations that he lists in his book:
I am creative
I am kind
I am loving
I am beautiful
I am expanding
I am abundant
I am receptive
Those are just seven, but try to think of more that apply just to you.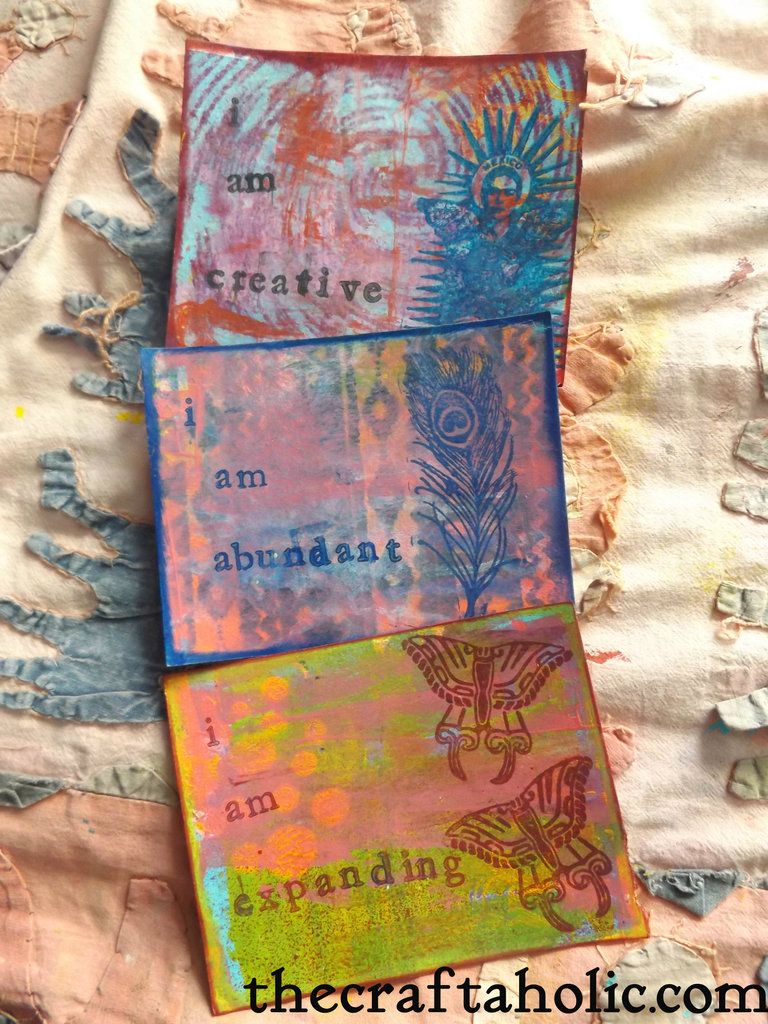 To me, making your own affirmation cards is such a powerful thing. You're really sending a message to your mind that you believe these things. In stamping the words, "I am abundant" you're telling that to your mind, body, and soul, and what a wonderful message to send to yourself!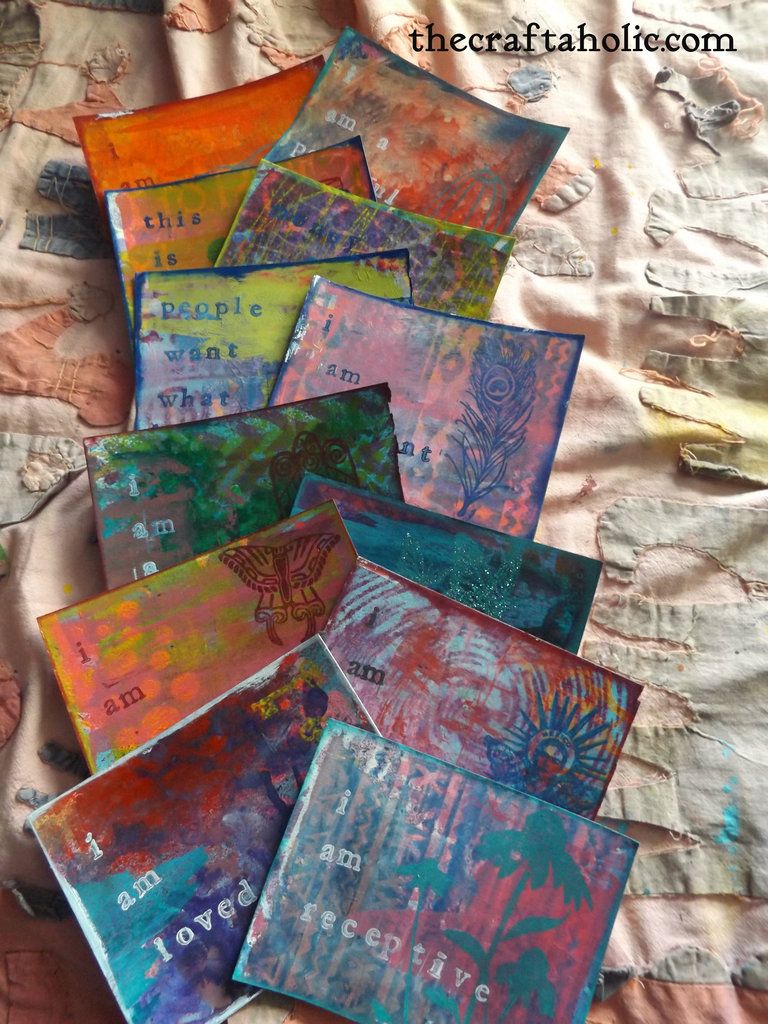 If you make these, please do me a favor and leave me a comment telling me so, and post pictures on my facebook wall! I'd love to see your work!